What is Sorghum?
Sorghum is a cereal grain that grows tall like corn, and it is used for a lot more than just sweetening. First and foremost, in the United States, sorghum is used as livestock feed and turned into ethanol. It's a popular crop to grow within the drier regions of the States because it is drought resistant. This quality has also made it a popular crop in Africa — where it has been growing for 4,000 years. Actually, sorghum is thought to have been introduced to America from Africa, making its way over on slave ships.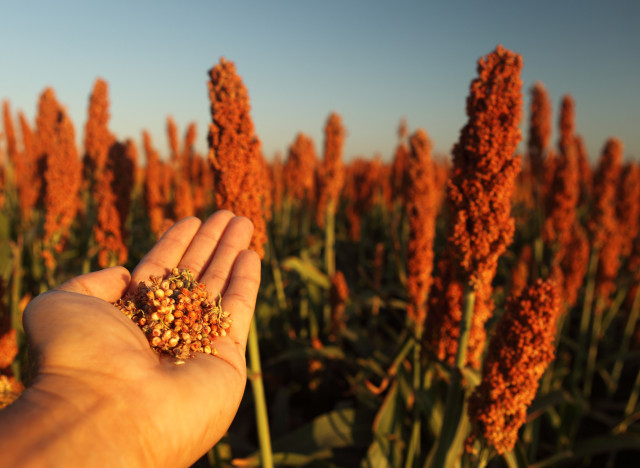 Sorghum uses
Sorghum might be popular as a syrup but it can also be used as a grain or ground into a flour — it is in fact an ancient whole grain full of nutritional benefits. Ground into flour, sorghum can be used as a substitute for wheat flour. Though, it has no gluten (obviously) so it requires a binding agent in some recipes like xanthan gum or cornstarch.
And that's not all, sorghum can also be popped like popcorn. Or cooked into a risotto. It can even be made into a lunch bowl too. How have we been surviving without this versatile grain for all these years?
Origin
The origin and early domestication of sorghum took place in northeast Africa, and the earliest known record of sorghum comes from an archaeological dig at Nabta Playa, near the Egyptian-Sudanese border and had been dated at 8,000 B.C. It spread throughout Africa and along the way adapted to a wide range of environments from the highlands of Ethiopia to the semi-arid Sahel.
The development and spread of five different races of sorghum can, in many cases, be attributed to the movement of various tribal groups in Africa. Sorghum then spread to India and China and eventually worked its way into Australia. The first known record of sorghum in the United States comes from Ben Franklin in 1757, who wrote about its application in producing brooms.
Why Sorghum?
The inherent tolerance of sorghum to marginal lands and environmental conditions, its versatility as a food and feed grain, and its ability to produce high yields ensure its important role in the lives of millions of people throughout the world.